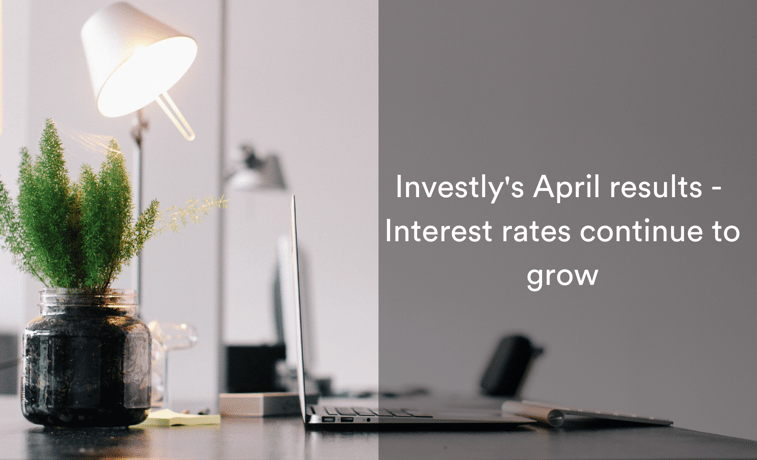 In April, the platform ́s factoring volume in Estonia was 1.13% higher than in February. Compared to April 2019, the volume was 30.15% greater. So even though turbulent times in the economy we managed to grow the volume. The number of financed invoices also grew – compared to March there were 9.3% more Estonian invoices financed.
Interest rates for Investors are growing
This is a satisfying start for Q2. In our early year projections, we were estimating a greater growth, but continuing growth (regardless of its size) in the current situation is already a good outcome. The interest rates also made a nice jump. Whilst in March the average yearly interest rate for every invested euro was 10.44%, in April the average interest rate raised to 12.11%. Given the circumstances it is not surprising.
It's now possible to predict our last year default rate
April also marked the due date for the last invoices financed in 2019. Currently there are nine Estonian invoices financed in 2019 for which the principal debt is still outstanding. Two of those were settled by a judicial compromise which we reached in April and these should be paid within the next 8 months according to the court approved payment schedule. Three invoices are a part of bankruptcy proceedings and are likely to have little possibility of recovery and it will probably take a long time. For the other four invoices, the outstanding principal is 0.007% of the total investments made into Estonian invoices in 2019, and these should be paid in this month. Based on this the default rate for Estonian invoices financed via the platform in 2019 should drop to 0.198% of the monetary value of the initial investments.

TOP 3 Seller sectors based on the amount of finance
| | |
| --- | --- |
| Construction and civil engineering | 22.79% |
| Mechanical and industrial engineering and machinery | 20.37% |
| Wholesale | 18.64% |
The share of all other Seller sectors was less than 10% each.

We expect the volumes to continue growing in this quarter as the measures that were taken to stop the pandemic are likely to be loosen. This should have a positive impact on the economy. Also, the period from Spring till Winter is the most active and statistics from the last recession shows that there was a massive growth in Estonian nationwide factoring volumes while exiting the recession.