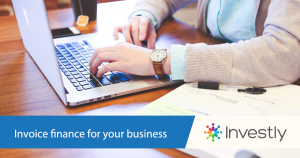 lnvestly, a peer-to-peer lending platform that helps small business release cash tied up in invoices is gearing up for its launch in the UK and is offering an early access pilot program to a limited number of users.
What is invoice finance?
Invoice finance is a great solution for businesses that want to be free from the cash flow struggles associated with waiting for payment from their clients. It isn't uncommon for companies to negotiate terms of 60 or even 90 days. This can leave businesses short on cash in a "bit of a pickle".
Investly provides a simple solution allowing businesses to sell their invoices on the platform directly after issuing them and using the cash to carry on their business faster.
Why Investly?
Unlike typical invoice finance providers, Investly uses a P2P reverse auction that offers businesses the best rates on the market and the possibility to finance up to 100% of the invoice with no reserves or hidden fees. You can free up the cash sooner, sell the invoice in a matter of days, and with only a small discount.
I love it, how can I join?
We've made it easy. And because we know you'll love it too, we will sell your first invoice, up to £5000, absolutely free to the first 20 successful companies that sign up before January 31st, 2016.
Simply go to Investly and enter your information in the sign-up window. We will contact you shortly and get you set up on our platform and ready to start selling your invoices.