Investly has announced a partnership with e-invoicing operator Telema in order to provide e-invoice financing for Estonian businesses. The new service, also known as e-factoring, allows retail chain suppliers to automatically finance their e-invoices with long payment terms.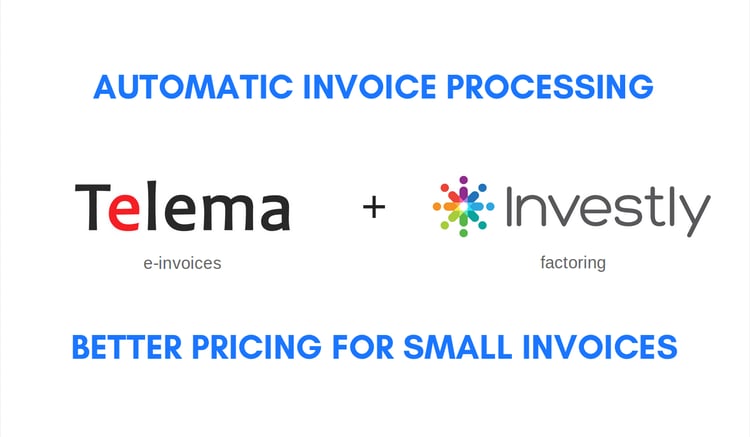 All governmental institutions and the majority of retail chains operating in Estonia require machine-readable e-invoices from their suppliers and service providers. "We've previously worked with providing e-factoring in collaboration with the major banks in Estonia. But in collaboration with Investly we can offer the service to smaller producers for the first time. Instead of having to wait the usual 1-2 months for their invoices to get paid, their e-invoices will be financed within a couple of days" said Hele Hammer, CEO of Telema.
According to Hammer, there are tens of thousands of businesses in Estonia that could benefit from e-factoring. Data from Investly shows that the majority of retail chains in Estonia currently ask for 25-60-day payment terms. E-factoring allows their providers to meet these terms. "Factoring is now more affordable for smaller businesses. Thanks to the automated processing of e-invoices, there's no manual labour required for handling the invoice data" explained Siim Maivel, founder and CEO of Investly.
Telema currently processes more than 16 million documents annually. 40% of these are e-invoices. However, digitalisation of Estonian businesses is lagging in comparison to other EU states. "E-invoices have been mandatory in the Danish public sector since 2005. This also gave a push for businesses in the private sector to start using e-invoices amongst themselves. A similar initiative in Estonia has, unfortunately, been stalled again this year" commented Maivel.
Telema is the leading EDI and e-invoicing operator in the Baltic States, offering IT solutions for automated data flow in supply chain processes. Telema connects over 4000 stores with 1000 suppliers, between whom 16 million documents are processes annually.
Investly helps businesses reduce payment terms on their invoices. Investly has saved businesses in Estonia and the United Kingdom over 200 years' worth of waiting on long payment terms.