Most people associate marketplace lending, also known as peer to peer lending, with consumer and real estate loans. Although Investly is similar to marketplaces that are oriented toward real estate and consumer loans in the sense that a large pool of investors takes part in financing each issue, there are some important differences to bear in mind. Below is a brief overview of the main differences.
Business model advantage
Real estate and business loans are usually with a large nominal value - several hundred thousand to several million. In comparison, invoices are usually much smaller. For real estate and business loans, the platform usually takes an upfront fee of at least 5% of the value of the loan. This allows the platform to generate a lot of revenue in a short amount of time. However, the customer is unlikely to return with another project.
Customers that have a need for a working capital usually have buyers that demand long payment terms. Not just once, but for every invoice. As long as they are in business, the need to release capital from invoices will remain. This makes them repeat customers, thus generating recurring revenue.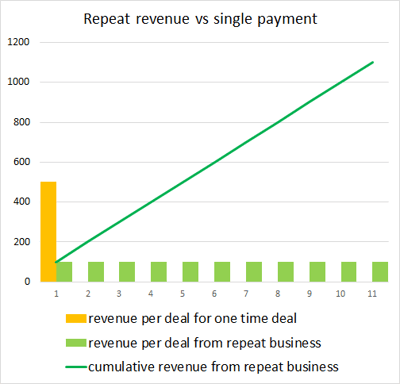 Thanks to recurring revenue, Investly is more similar to a subscription-based business such as Netflix. After the customer has brought in enough revenue to cover the cost of acquiring them, all future revenue will go towards profits. The longer the customer lifetime (the longer they stay), the more value (income) they create. Businesses that operate on a subscription model call this customer lifetime value. Once you see this visually you start to understand why subscription-based businesses are valued at a multiple of recurring revenue. As these businesses age, they need to spend less and less to generate the same revenue. In other words, their customers become more profitable as they age because keeping them does not incur extra acquisition costs, which cannot be said of businesses that are geared toward large, one-off, deals.
With our easy to use platform and excellent customer service, we have laid the base for building long-lasting relationships with all of our customers. Access to capital has allowed our customers to grow 2-3x faster than their peers. As our customers grow, they become more valuable to us by issuing more invoices and generating more fee revenue.


Business cycle
Invoice finance is necessary regardless of the business cycle. While real estate projects get frozen and consumers scale back spending during a recession, the need for invoice financing might actually increase for some businesses as upstream buyers impose longer payment terms on their suppliers. In the last ten years, the use of factoring and invoice finance has outpaced economic growth in most European countries. As companies merge and grow ever larger, the demand for factoring is set to rise because large corporations are most active in asking for long payment terms from their suppliers.
Pan-European platform
Investly is the only UK invoice financing marketplace that has a presence in mainland Europe. With plans to expand the reach in the future, this will provide the Investly with diversified sources of income that are not dependent on the economic conditions of a single nation. It also significantly increases Investly's earning potential. While the UK alone is a very large market for factoring and invoice discounting at 330 billion euros, the European Union in total is much larger at 1.5 trillion, or 1,500 billion euros, a year (based on data from 2016). A selection of different countries, sectors and debtors also provides marketplace investors with a chance to diversify their portfolio.
Scalable technology
Automation allows us to process invoices with considerably lower unit costs compared to competitors. For e-invoices, the unit cost of processing is nearly zero because the invoices get processed automatically without the need for human intervention. Our growth is thus not constrained by staffing needs as much. On top of that, we don't have to build a new engine to process e-invoices when we enter a new market. We can simply adapt the existing technology to a new market.

In conclusion, our business model offers significant advantages. As we expand, these advantages will support our business and also help our customers reach their goals. If you want to know more, head over to our Seedrs campaign page. If you can't find what you're looking for, head over to the discussion tab and ask us a question.