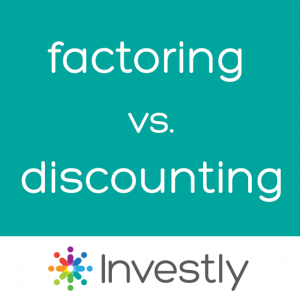 There are two main options when companies are looking to sell their invoices: factoring and invoice discounting. There are some key differences that are worth considering to ensure you get the service that is right for you and your business.
Businesses can find themselves with a cash flow problem due to having delivered their goods or services to clients and then have to wait to be paid at a much later date. Looking at Invoice finance is a way to release the cash sooner. If the time to wait for payment is 60 or even 90 days it may be difficult to grow the team or even keep up with all the bills. The two following options are a solution to this issue but are structured slightly differently:
Factoring:
A bank or factoring company will purchase a company's invoices for of up to 80 to 85% of the invoice value. When they get paid in full the business will be able to access the remaining percentage (20 to 15%) minus the Factoring company's fees and interest
The use of factoring is always disclosed to clients
A company will usually have a facility set up with the third party to factor all their invoices, although some do offer factoring of selected invoices
The third party takes on the companies' credit checking, the management of the sales ledger and credit control
Invoice Discounting:
Companies can sell just the invoices they choose to and at any time throughout the year. The company will usually receive 90-95% of the invoice value from investors. Businesses that use the same platform and have a good history pay a smaller fee as they build trust with investors over time
The use of invoice discounting does not have to be disclosed to clients
Responsibility remains with the company for credit checking their clients and their sales ledger
Credit control initially also remains with the company
No facility required or any contractual tie in with notice periods
No hidden fees or charges
I love it, how can I join?
We've made it easy. And because we know you'll love it too, we will sell your first invoice, up to £5000, absolutely free to the first 20 successful companies that sign up before January 31st, 2016. Simply go to Investly and enter your information in the sign-up window. We will contact you shortly and get you set up on our platform and ready to start selling your invoices.