September was a very busy month for the whole team at Investly. We signed up a record number of new customers and investors purchased a record amount of invoices. We also implemented a few improvement to the website.
Investor help centre now available
We created a help centre to educate investors and provide answers to all the frequently asked questions about investing and account management. It is available in English and Estonian. Please let us know if you think something important is missing or if some of the answers could be improved. Your feedback is very important to us. To get to the help centre, just click on 'info' once you've logged in to the website.

Updated bidding logic
A previous version of the bidding logic meant that if an investor made a €100 bid at 12% and returned later to make another bid at the same rate, his bids would be combined. In effect, it allowed some investors to bypass others' bids even though their second bid was made at a later time. Bids made at the same rate should be listed based on chronological order (earlier bids first). The bidding logic has now been updated.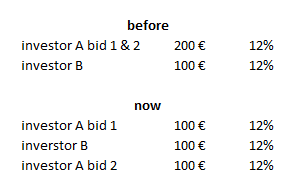 Communication improvement
We've added a collection history button to provide updates to investors when an invoice payment is overdue. Most companies pay their invoices on time, some are late a few days on occasion. However, in some cases, companies are late more than one or two days. Providing information to investors regarding the expected payment date is very important and the collection history button allows you to find that information.

Next week Investly will be visiting the peer to peer investing conference in London. If you'd like to meet us or know someone else who would, please let us know so we can arrange a meeting.
Invoice discounting (United Kingdom)
September volume: £39,000
total volume: £141,000
net return per 30 days: 1.25%
net annualised return: 15.2%
average duration: 32 days
repaid: 22 (out of 32 sold)
default rate: 0.00%
Invoice discounting (Estonia)
September volume: €524,000
total volume: €1,748,000
net return per 30 days: 1.13%
net annualised return: 13.8%
average duration: 30 days
repaid: 85 (out of 122 sold)
default rate: 0.00%
The public loanbook can be downloaded here.